Website Support & Maintenance Services - 2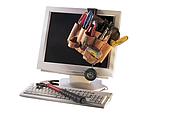 Web Server Maintenance: A web server is the computer where your web site resides. Unless your company has a very hi tech IT installation consisting of data center or intranet, the chances are that the web server space has been leased form a third party and you have remote access to it. The hosting provider, or the company that leases out space for your web site, owns and manages the data center, handles most of the technical maintenance related to your web site. Most hosting companies give you a limited access to your web server using a web-based control panel. The most routine part of server maintenance is that you may be required to monitor disk space, data transfers and efficient performance. Doing so will ensure that your web site is performing at proper and efficient performance levels. This part of company web site maintenance is relatively easy and is a periodic chore.
Content Archival: If your company has dynamic content and it changes constantly like e-zines, portals or news sites, you must put in place a mechanism to archive older content and make sure that it is available on upon request. These kinds of web sites are usually database driven and one needs to be updated on data driven technologies to efficiently perform this part of company website maintenance operations. A requirement of specialist is not ruled out since this is a time consuming and a seriously responsible job profile in company web page maintenance industry.
Link Validation: Link validation is a typical part of all or most company web site maintenance services. It includes microscopic scanning all the pages of the company web site to ensure that there are no non-working or dead links. Several software programs are available that do this automatically by reporting any dead or missing links at the end. It may be easy, but a very essential part of company web maintenance.
Link Popularity: In a bid to popularize your company's web site, it has to be marketed in such a way that it should be placed at the top of search engines. This practice is also called search engine optimization and link popularity becomes very important in search engine placement. In short link popularity is the measure of the number of incoming and outgoing links on your website. The more links your company web site has, the better it will rank in search engines. Therefore, this also underlines the importance of company web site maintenance in regard to link validation.
Layout Changes: This new dimension of company website maintenance is really not a maintenance job, but is a revamping job. It is important that the differentiation between content update and layout changes comes to the fore because content update is just changing the content as per time or incidents and is a regular part of the company web site update process, whereas layout changes are not typically included in most company web site maintenance packages. Layout changes are changes to the overall design and structure of the web site or a particular page which may include addition of new graphics, re-designing or enhancing existing such as adding flash movies or sounds.
The objective of any website maintenance program is to keep the web site appealing, up-to-date and to attract and retain visitors. Company web site maintenance is a full-time and highly responsible job, especially for web sites that have constantly changing content. Also, being a very highly technical job, a lot of software tools have come up to automate the process, but the uniqueness of each web site does not aid the automation fully.